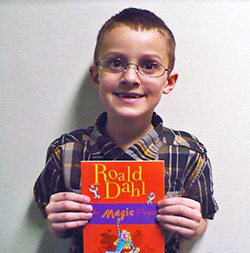 Congratulations to Star Student Konnor R. from Wasilla, AK! Konnor is a second-grade student at Larson Elementary School. Konnor's reading teacher, Marilee Nufer, had this to say about him:
Konnor enrolled in our school this fall. At our fall benchmark, Konnor read 18 words correct in a minute. His classroom teacher Lulu Chamblee, Konnor's mother, and I built a reading plan for Konnor which included a 35-minute intervention block with our core materials and Read Naturally. Konnor's mom brought him to school early every day to do Read Naturally in our lab. In addition, Konnor worked on Read Naturally for 15 minutes at the end of school and read with his mom at home every evening. Konnor just took the MAP test and showed a 29-point growth in reading. His expected growth was eight points! Konnor's latest reading fluency score was 85 words read with two errors. Konnor takes his reading seriously and now sees himself as a reader. We think Konnor deserves to be Read Naturally's Star of the Month because of the great effort he has put into improving his reading and his great attitude to work hard, whatever the task. Konnor is proud of his accomplishments and so are we!
The Read Naturally Star of the Month program is designed to celebrate students who work hard to improve their reading skills. Each month, we select one student to feature in our newsletter. The selected student will win a $20 Barnes & Noble gift card, and the school or teacher who nominated the student will receive a $200 gift certificate for Read Naturally materials.
If you entered the drawing and your student did not win this month, he or she will remain in the selection pool for future months!
To nominate your deserving student, visit the entry form.