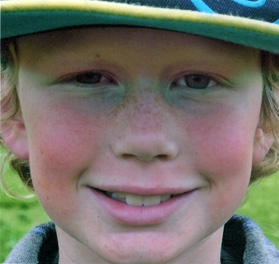 Congratulations to Star Student John F. from Encinitas, CA! John is a third-grade student at Paul Ecke Central Elementary School. John's teacher, Danielle Austin, had this to say about him:
John came to us in the Learning Resource Center with an IEP in March of 2010. He was a struggling, reluctant reader. John was put to work with Read Naturally passages, which appealed to him due to his interest in nature and people and because they were not the "baby" text he was used to in the classroom. Last school year, John started the year with a reading fluency of 65 words correct per minute. He showed very little summer regression during the summer of 2011, after having used Read Naturally during his second-grade year. At the end of the last school year, he had a high score of 101 words correct per minute. By June, John was looking for stories that had difficult words to pronounce on purpose, in order to challenge him. John did so well last year that he will return to the general education classroom for reading and writing and move forward with his peers. We are confident that he will soon outgrow his need for special education support and will be a full time general education student. John embodies that rare quality of striving to improve his reading ability as well as his information base.
The Read Naturally Star of the Month program is designed to celebrate students who work hard to improve their reading skills. Each month, we select one student to feature in our newsletter. The selected student will win a $20 Barnes & Noble gift card, and the school or teacher who nominated the student will receive a $200 gift certificate for Read Naturally materials.
If you entered the drawing and your student did not win this month, he or she will remain in the selection pool for future months!
To nominate your deserving student, visit the entry form.