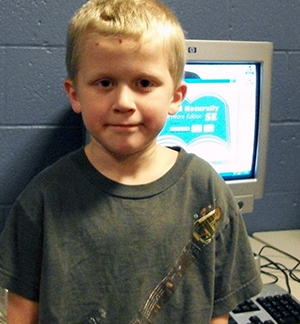 Congratulations to Star Student Jesse B. from Grand Rapids, MI! Jesse is a second-grade student at Townline Elementary School. Jesse's teacher, Candis Malcolm, had this to say about him:
Jesse has done such a remarkable job in the Read Naturally program. He is a second-grade student who just started the program this year. While he has only been in the program for a short time, he has increased his fluency and has gained so much confidence. He has moved up from level 1.0 to level 1.5, and with his determination, I know he will be at grade level in the future. With every story he completes, he is so motivated to do better on the next one. His comprehension has improved immensely, and he comes to the program ready to work and succeed.
The Read Naturally Star of the Month program is designed to celebrate students who work hard to improve their reading skills. Each month, we select one student to feature in our newsletter. The selected student will win a $20 Barnes & Noble gift card, and the school or teacher who nominated the student will receive a $200 gift certificate for Read Naturally materials.
If you entered the drawing and your student did not win this month, he or she will remain in the selection pool for future months!
To nominate your deserving student, visit the entry form.