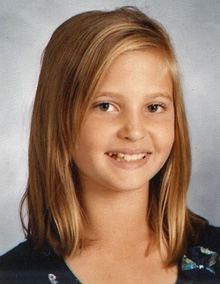 Congratulations to Star Student Hailey J. from Somonauk, IL! Hailey a fifth-grade student at Somonauk Middle School. Hailey's teacher, Lynda Harrington, had this to say about her:
Hailey is a fifth-grade student, new to middle school and the middle school philosophy. She and her peers started working with Take Aim at Vocabulary. They were very intimidated by the potential vocabulary words they were going to learn. The Goldenrod list is pretty ambitious for all fifth-grade students, much less those with learning disabilities! She tackled the program with a vengeance! She has already completed three stories in the first unit, while the other students are just completing their first. She works hard, problem solves, and asks for help when necessary. I am enormously proud of her efforts, and she thinks the program is challenging and rewarding. Go Hailey!
The Read Naturally Star of the Month program is designed to celebrate students who work hard to improve their reading skills. Each month, we select one student to feature in our newsletter. The selected student will win a $20 Barnes & Noble gift card, and the school or teacher who nominated the student will receive a $200 gift certificate for Read Naturally materials.
If you entered the drawing and your student did not win this month, he or she will remain in the selection pool for future months!
To nominate your deserving student, visit the entry form.