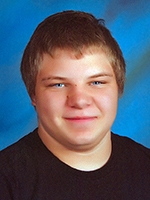 Congratulations to Star Student Garrett J. from Beebe, AR! Garrett is a tenth-grade student at Beebe High School. Garrett's teacher, Jody Woodard, had this to say about him:
I believe that Garrett should be the Star of the Month because of his amazing growth in reading. I came to Beebe Public Schools last year with knowledge of the Read Naturally program from a previous teaching job. I encouraged my administrators to buy the program so that I could help my special education students grow and develop their reading skills. Garrett was one of the students that began using the program last year and he continues to use the program this year. He started out at a second-grade reading level with few comprehension skills. His writing skills were also extremely low. I encouraged him to do the best that he could every day. In time, Garrett moved through the program with ease and built his skills. He currently reads at a strong fifth-grade level and I can see that with continued hard work, he will be reading on grade level soon. Garrett has told me that I am the best teacher he has ever had because I care about how well he reads and I am the only teacher that has helped him to read better. That is simply amazing and I am so proud to have the opportunity to teach.
The Read Naturally Star of the Month program is designed to celebrate students who work hard to improve their reading skills. Each month, we select one student to feature in our newsletter. The selected student will win a $20 Barnes & Noble gift card, and the school or teacher who nominated the student will receive a $200 gift certificate for Read Naturally materials.
If you entered the drawing and your student did not win this month, he or she will remain in the selection pool for future months!
To nominate your deserving student, visit the entry form.