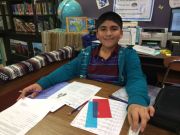 Congratulations to Star Student Gabriel B. from High Point, NC! Gabriel is a seventh-grade student at Ferndale Middle School. Gabriel's teacher, Julie Kimsey, had this to say about him:
Gabriel B. is a 12 year old seventh-grade student at Ferndale Middle School in High Point, NC. He is an English as a Second Language student and also has a learning disability. We implemented the Read Naturally program in our ESL classes in September of this school year. Gabriel could be the poster child for Read Naturally! The systemic approach to the process really matches his learning style. He has passed more stories than any other student and is making great progress in his fluency and comprehension. On Gabriel's placement test, he read 66 words, with 10 errors for a WCPM score of 56. On his recent progress monitoring, he read 79 words, but with only 5 errors, for a WCPM of 74! A great improvement! He is also getting more of the comprehension questions correct each story. Even more impressive is how well he knows the process and how much he enjoys reading the selections.
The Read Naturally Star of the Month program is designed to celebrate students who work hard to improve their reading skills. Each month, we select one student to feature in our newsletter. The selected student will win a $20 Barnes & Noble gift card, and the school or teacher who nominated the student will receive a $200 gift certificate for Read Naturally materials.
If you entered the drawing and your student did not win this month, he or she will remain in the selection pool for future months!
To nominate your deserving student, visit the entry form.