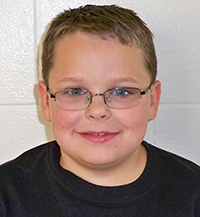 Congratulations to Star Student Dash R. from Yorktown, IN! Dash is a third-grade student at Yorktown Elementary School. Dash's teacher, Amanda Webster, had this to say about him:
Dash is a 3rd grader at Yorktown elementary School in Yorktown, IN. Dash has made great gains within the past three months. He has worked so hard and is so proud of his success. He has been using Read Live as a part of the RtI process. He has gained confidence and smiles from ear to ear as he reaches his goals. At the beginning of the year, Dash tested into Phonics Series level 1.8. We continued to review Dash's gains throughout the beginning of the year. His goal continued to increase as he made gains. He was just reassessed and placed in the Sequenced Series level 3.5. His gains were noticeable within the general classroom as he was able to carry over his skills, but I had no idea he would move so many levels in such a short amount of time. Dash has worked so hard and is truly a star.
The Read Naturally Star of the Month program is designed to celebrate students who work hard to improve their reading skills. Each month, we select one student to feature in our newsletter. The selected student will win a $20 Barnes & Noble gift card, and the school or teacher who nominated the student will receive a $200 gift certificate for Read Naturally materials.
If you entered the drawing and your student did not win this month, he or she will remain in the selection pool for future months!
To nominate your deserving student, visit the entry form.