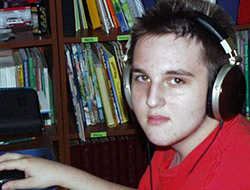 Congratulations to Star Student Cody F. from East Burke, VT! Cody is an eleventh-grade homeschooled student. Cody's mother and teacher, Juanita, had this to say about him:
Cody has been a struggling reader for years. He is dyslexic, dysgraphic, has ADD, and a host of other learning challenges. Since he is homeschooled, he is not eligible for special education services from our local public school district. Also, because he is 16 years old and is in the eleventh grade, intervention is a challenge. I discovered Read Naturally and introduced him to the Read Naturally Live program using the 60-day free trial. The results have been amazing, but what is even more amazing is the way he feels about his progress. He sees the changes and it is important to point out that this program works not just for little kids, but for older struggling readers as well. What is also wonderful is that it is available to homeschoolers or anyone who needs help in reading. Cody is living proof that Read Naturally really works for all ages and all stages of readers.
The Read Naturally Star of the Month program is designed to celebrate students who work hard to improve their reading skills. Each month, we select one student to feature in our newsletter. The selected student will win a $20 Barnes & Noble gift card, and the school or teacher who nominated the student will receive a $200 gift certificate for Read Naturally materials.
If you entered the drawing and your student did not win this month, he or she will remain in the selection pool for future months!
To nominate your deserving student, visit the entry form.