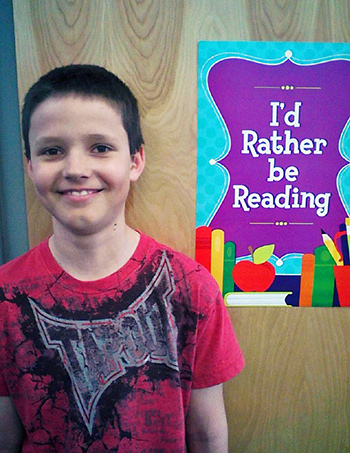 Congratulations to Star Student Calvin C. from Cedar Spring, MI! Calvin is a fifth-grade student at Creative Technologies Academy. Calvin's teacher, Sarah Classen, had this to say about him:
Calvin came to me at the beginning of last school year. As a fourth-grade student, he could barely make it through a 0.8 story. Calvin has a hearing impairment that was undetected until 3rd grade. Due to this, he missed much of his reading phonics instruction.
When he first started working with me, Calvin was not able to read and cried silently when he was asked to write. He wanted to be able to show me that he could do these things, but he truly did not know how to do them.
Calvin has been nothing short of a hard worker for me from day one. He comes into the Reading Lab every day and gets right to work on his stories. Since last year he moved up from a level 0.8 to a level 2.3! He always has a positive attitude and even though some sounds are hard for him to hear, he strives extra hard to make those sounds in all the words he is now reading. He no longer struggles with writing and reading like he did before. He sounds unfamiliar words out and smiles a lot more these days! His confidence has grown a great deal and he has even taken on a Kindergarten reading buddy, once a fear of his, this past month. He is a bright spot in my day and I am super impressed at all the progress he is making!
The Read Naturally Star of the Month program is designed to celebrate students who work hard to improve their reading skills. Each month, we select one student to feature in our newsletter. The selected student will win a $20 Barnes & Noble gift card, and the school or teacher who nominated the student will receive a $200 gift certificate for Read Naturally materials.
If you entered the drawing and your student did not win this month, he or she will remain in the selection pool for future months!
To nominate your deserving student, visit the entry form.