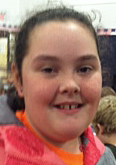 Congratulations to Star Student Brianna P., a fifth grade student at Bryant Elementary in Owosso, MI! Brianna's teacher, Dede Raffaelli, had this to say about her:
Brianna joined our Title I program in third grade. She was in need of supplemental support in the area of Phonics. Her hard work and dedication quickly moved her to a fluency intervention. Although Brianna had great reading skills and comprehension, we found that she became nervous and struggled when her teachers did timed readings and progress monitoring. We placed Brianna in the Read Naturally program last year and she gained confidence and reduced her anxiety about being timed when she read aloud. Although she tested at Benchmark this year in fluency, she wanted to continue with our Read Naturally program. Brianna volunteered to come to our Title 1 lab to do her intervention BEFORE SCHOOL five days a week! Her hard work and dedication is admirable and we are so proud of her success using the Read Naturally program!
The Read Naturally Star Student of the Month program is designed to celebrate students who work hard to improve their reading skills. Each month, we select one student to feature in our newsletter. The selected student wins a $50 Barnes & Noble gift card, and the school or teacher who nominated that student receives a $200 gift certificate for Read Naturally materials.
If you entered the drawing and your student did not win this month, he or she will remain in the selection pool for future months!
To nominate your deserving student, visit the entry form.