Researchers in academic settings frequently conduct studies of our programs. Overwhelmingly, these studies demonstrate the positive effects of a Read Naturally intervention.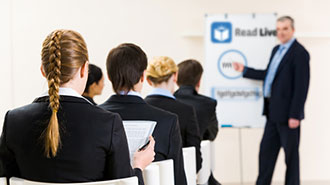 For example, Dr. Jayna Jensen recently conducted a study in which Special Education students at a middle school in California used Read Naturally Software Edition (SE). The study found that the Read Naturally intervention produced statistically significant gains in the students' California Modified English Assessment (CMA) scores.
Results such as this are common when a study properly implements a Read Naturally intervention. Details on several studies of Read Naturally can be found here, and reviews of select studies by reputable evaluators of reading programs are provided here. Additional research documents, including White Papers, are available as free downloads from our Knowledgebase.
Research is central to what we do at Read Naturally. Our programs are research-based and research-proven. This research—as well as tens of thousands of students and educators—can vouch for the effectiveness of a Read Naturally intervention. If you haven't experienced our programs for yourself, we'd love for you to give them a try in the upcoming school year. Please consider a free trial or a free sample of one of our interventions—details are available on our website.