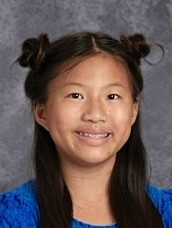 Congratulations, Valenee V.! Valenee's dedication to learning has earned her the Read Naturally Star of the Month award for October. Valenee is a fifth-grade student at Castle Elementary in Oakdale, MN. She is new to Read Naturally Live this year but is making noticeable progress after only a week in the program. Valenee's teacher, Mrs. Oberding, nominated Valenee because of the motivation and commitment Valenee has shown toward improving her reading. Mrs. Oberding shared the following with us about Valenee's success.
Valenee has been highly engaged and motivated in her initial days of a fluency intervention using Read Naturally Live. She has taken responsibility of her learning in a very active and large group. She continues to follow each step in the program with patience and thoroughness, because of this I know she will increase her fluency. She has already gained more words per minute in her progress monitoring from only one week using the intervention daily for 30 minutes. Today Valenee went above and beyond in her learning. While participating in the Wordtastic step of the program she created a chart of synonyms and antonyms that were new to her as she waited for a teacher to conduct a Cold Time reading. I also have been able to use her as a model of what it should look like when using Read Naturally Live. Valenee's participation in and her extension of this great intervention highlights why she should be chosen as Read Naturally's Star of the Month.
The Read Naturally Star Student of the Month program is designed to celebrate students who work hard to improve their reading skills using Read Naturally's intervention programs. Each month, we select one student to feature in our newsletter. The selected student wins a $50 Barnes & Noble gift card, and the school or teacher who nominated the student receives a $200 gift certificate for Read Naturally materials.