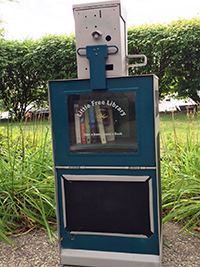 I recently came across an old blog post from 2013 about the Little Free Library movement that has taken off in neighborhoods across the world. As I read through the blog article, I realized there is no reason Little Free Libraries should be restricted to neighborhoods and coffee shops. I was able to convince the team at Read Naturally to set up a Little Free Library in the outdoor space shared by the businesses in our office complex.
I loved the idea of using an old newspaper vending machine for this project. I got in touch with the Minneapolis Star Tribune newspaper, and they generously agreed to donate one. They even took the time to replace the glass for us.
I'm not a very handy person and have little experience with tools. During this project, I developed some new skills to say the least. I learned how to use an electric sander, and I learned that sanding needs to be done outside or the dust goes everywhere (oops). I also learned you need to consider wind direction when spray painting so you don't waste all the paint. As I progressed I got more efficient—or maybe I just got better at covering the areas and items I didn't want covered in paint, like my cell phone (thank goodness for screen protectors).
All in all, I am proud I was able to transform the Star Tribune's old newspaper vending machine into Read Naturally's first-ever Little Free Library. Now that all the work is done, I can't wait to see people using it.
Give us a few suggestions of what books we should put in our new Little Free Library. Also, if you're in the Twin Cities, please stop by and use it. We'd love to meet you!