We are pleased to report that the Closing the Gap organization recently featured Read Naturally on its Front Page Report, which highlights the products and developments that are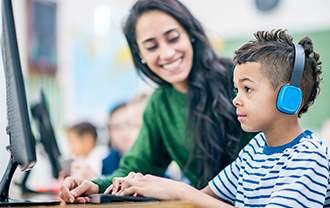 influential in the area of assistive technology. Assistive technology is any product or tool that helps people with disabilities in the tasks they set out to accomplish. Closing the Gap is internationally renowned as the leader in assistive technology news, resources, and professional development.
Students with learning disabilities often require extra support in reading, delivered in the form of assistive technology. Read Naturally is a tool that provides this support. Our solutions work well for students with disabilities in that they provide:
Flexible story options
Extensive audio support
Ease of differentiating instruction
Motivating monitoring of progress
Read Naturally solutions work particularly well for students with dyslexia, the most common reading disability. Research shows that intensive reading interventions can make a notable difference in helping students with dyslexia learn to read more easily. This page on our website explains the most effective instruction for students with dyslexia according to researchers. It also describes the specific ways in which Read Naturally interventions are well suited to help these students.
We greatly respect organizations such as Closing the Gap, which are committed to helping students with disabilities get the support and opportunities they deserve. Check out Closing the Gap's front-page writeup of our strategy here. If you would like to visit us at the Closing the Gap conference in Prior Lake, MN, we will be exhibiting there October 2-4.