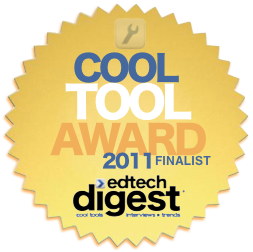 Read Naturally is proud to announce its newest assessment and intervention program, Read Live, was named a finalist for the 2011 EdTech Digest Cool Tool Awards. The products, services and people that made the list of finalists are innovative, respected and outstanding cool tools, leaders and trendsetters moving education forward into the 21st century. We are thrilled that Read Live made the list!
EdTech Digest recognizes people in and around education for outstanding contributions in transforming education through technology to enrich the lives of learners everywhere. The 2011 Cool Tool finalists and winners were chosen based on seven key elements: attractiveness, interest, message delivery, workability, support, results and potential. The complete list of finalists is available on the EdTech Digest website.
Read Live is a comprehensive, research-based program that includes Benchmark Assessor Live for screening students for overall reading proficiency and our newest intervention program, Read Naturally Live, with curriculum that supports fluency, vocabulary, comprehension, and phonics. Want to check it out? Sign up for a free, 60-day trial!