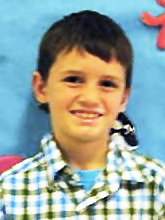 Congratulations to Caden B. from Sligo, PA, on being named Read Naturally's October Star Student! Caden is a second grader at Sligo Elementary School. He was nominated by his teacher, Ms. Hancock, for his success and while using Read Naturally Live and the motivating influence he has on other students in his class. Ms. Hancock shared this story about Caden's progress with the Read Naturally Live program:
Caden was the first student in all of my reading groups first through sixth grade to move up a level in his reading. He is focused and determined to pass the story he is on. He reads with accuracy, fluency and expression. He came up with a game for the students in my class. He asked me if the first one logged onto their Chome books and into Read Naturally Live could receive a prize. So, I began giving the students five goldfish for the first logged on, four for the second, three for the third and two for the fourth one. There are four students in this group. Since we have started this "game" all the students log onto the Chrome books quicker and spend more time using the program during class. I also have fewer issues helping them log on and getting started with the program. Caden is very motivated to earn ribbons for his work. I have been amazed at how this program has strengthened and built his confidence in his reading. I am very proud of Caden's work with reading in my room and in his classroom. I attribute this new confidence to Read Naturally Live.
The Read Naturally Star Student of the Month program is designed to celebrate students who work hard to improve their reading skills. Each month, we select one student to feature in our newsletter. The selected student wins a $50 Barnes & Noble gift card, and the school or teacher who nominated that student receives a $200 gift certificate for Read Naturally materials.
If you entered the drawing and your student did not win this month, he or she will remain in the selection pool for future months!
To nominate your deserving student, visit the entry form.