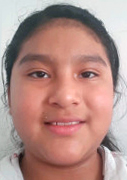 Fifth grader Estephany R-C. is our October Star of the Month winner. Estephany attends George Brown Jr. Elementary where she is working with Ms. Newcomer on her reading. Estephany moved to the United States a little over a year ago without having a strong grasp of English. Since arriving in the United States Estephany has been dedicated to improving her reading and English skills simultaneously. Ms. Newcomer shared the following with us about Estephany's success.
I am nominating Estefany R-C. for Read Naturally Star of the Month. Estefany is in our dual immersion program. We have been working with Estefany since the 2019-2020 school year in Tier 2 Intervention. She came to us as a fourth grader and from another country. Her English was very limited. Her English fluency was below the norm for 4th grade. She was reading 51 wpm. She has had major improvement throughout the year. She is now reading approximately 80 wpm. She started Read Naturally Live on Sequenced 1.5 and was completing 2-3 stories per month. She would have finished her 12 stories before the end of the school year, but due to school closures she was unable to finish. Since we have started the 2020-2021 school year, Estefany comes twice a week to Read Naturally Live support while we are distance learning. She has completed 2 stories and is 2 stories from moving to a new level. She is excited to move to her next level and her goal is 100 wpm for Read Naturally. She has been meeting her goal and scoring higher than 100 wpm. She also works through the Take Aim lessons we utilize for 5th grade during Intervention. I feel she is a Star of the Month candidate for her dedication and hard work. She is reading in 2 different languages and showing improvement everyday.
The Read Naturally Star Student of the Month program is designed to celebrate students who work hard to improve their reading skills using Read Naturally's intervention programs. Each month, we select one student to feature in our newsletter. The selected student wins a $50 Barnes & Noble gift card, and the school or teacher who nominated the student receives a $200 gift certificate for Read Naturally materials.