As you think about Read Naturally's role in your school this coming fall, you'll want to consider the most effective way for educators to be trained in the strategy and materials. Read Naturally offers a variety of training options to accommodate any situation.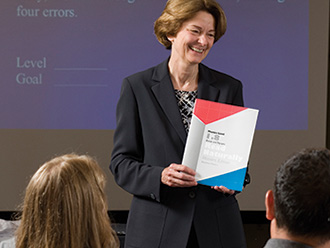 Our self-study materials are versatile and affordable. Educators can access these materials anytime and continually refer back to them. Schools benefit from keeping these materials on hand to train new Read Naturally educators at their convenience.
To learn in person from our top-notch presenters, check out the schedule for our full-day seminars. These seminars offer great instruction on everything you need to know to get your school's Read Naturally program running smoothly. Our presenters also exhibit at various conferences throughout the year and love to chat with educators at the Read Naturally booth.
For the ultimate experience, consider our coaching services or our on-site training option. These options allow you to personalize your training to the unique needs of your school and students. Read Live Coaching services are a great choice if you have competed training on the Read Naturally Strategy and the Read Live Hands-On Workbook* and you're looking for a thorough, one-on-one partnership with a Read Naturally expert. The on-site option is ideal if you could benefit from a customized group training at your site.
Whichever option you choose, you can rest assured your Read Naturally training experience will be a valuable investment. We consistently receive feedback that our high-quality trainings allow educators to maximize the effectiveness of their Read Naturally programs. If you want the best possible results for your students and school, get in touch today!
*discontinued