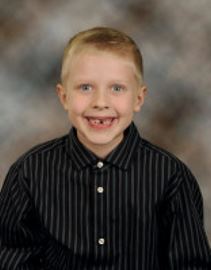 The first Read Naturally 2017 Star of the Month winner is Brayden C. from Redding, CA. Brayden attends Stellar Charter School as a 2nd grade student. Brayden was nominated for the fantastic improvement he has made with reading so far this school year. Brayden's teacher, Ms. Brady, plans to use Brayden's success as an example to other parents with kids using Read Naturally Live at the school. Ms. Brady shared the following with us about Brayden's success.
I started working with Brayden at the beginning of this school year when he started 2nd grade. Our school is a Homeschool Charter School where the students come twice a week and the parents are responsible for homeschooling the rest of the week. As the Literacy Specialist I am available on the days they do not attend to work with students one on one for reading help. Brayden started coming in to work with me once a week and one of the things I did right away was get him started in the Read Naturally Live Program. When I started Brayden in the Read Naturally Program he was reading 38 wpm at the .8 level for his cold read. Today he is reading 95 wpm at 2.5 for his cold read!
A challenge for me is that I have to depend on the parents to follow through and implement the program at home. Fortunately for Brayden, his mom has done a great job at following through and she is thrilled with the results. Because she was able to see the steady growth she became a firm believer in the Read Naturally Program! I plan on using his fluency graphs along with his CBM growth graphs to demonstrate to new students/parents in the program of how effective Read Naturally can be if implemented consistently!
The Read Naturally Star Student of the Month program is designed to celebrate students who work hard to improve their reading skills. Each month, we select one student to feature in our newsletter. The selected student wins a $50 Barnes & Noble gift card, and the school or teacher who nominated that student receives a $200 gift certificate for Read Naturally materials.
If you entered the drawing and your student did not win this month, he or she will remain in the selection pool for future months!
To nominate your deserving student, visit the entry form.
Learn how you can try Read Naturally Live Free for 60 days!