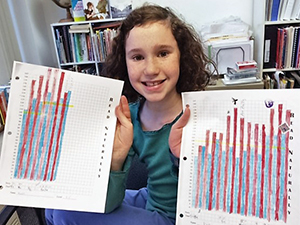 Congratulations Katie S. from Lexington, MA on being selected as Read Naturally's March Star Student. Katie is a fourth grade student at the Institute for Learning and Development. Katie was chosen for her high achievement level and dedication to improving her reading and writing skills. Katie's teacher Ms. Stacey had this to say about Katie.
Two years ago, I evaluated Katie and determined that her reading skills were below grade level. As a result, she qualified for an IEP and began receiving reading support twice a week in school. I also tutored Katie once a week outside of school at our Institute. I chose to use Read Naturally because Katie needed reading fluency practice, which she wasn't getting in school, and I knew she would be motivated by charting her progress.
She has continued to amaze me with her progress over a relatively short period of time. She started with Level 0.8 and is now on Level 3.5! Not only has the program helped improved her reading skills, she is also writing 5-sentence summaries with ease. Now, she also no longer qualifies for an IEP! I am really proud of Katie's drive to improve and willingness to stretch herself with more difficult passages. She is quite a super star!
The Read Naturally Star Student of the Month program is designed to celebrate students who work hard to improve their reading skills. Each month, we select one student to feature in our newsletter. The selected student wins a $50 Barnes & Noble gift card, and the school or teacher who nominated that student receives a $200 gift certificate for Read Naturally materials.
If you entered the drawing and your student did not win this month, he or she will remain in the selection pool for future months!
To nominate your deserving student, visit the entry form.
Learn how you can try Read Naturally Live Free for 60 days!