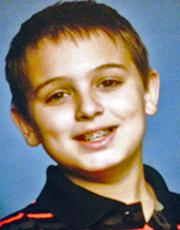 Congratulations Brighton W. from Middletown, CA on winning the March Read Naturally Star Student award. Brighton is a fourth grader at Pathways Charter School. Brighton's teacher Ellen Karnowski had the following to say about Brighton's great success.
Brighton began in the 2013-2014 school year as a 3rd grade student who seemed to have difficulty with fluency. His reading was below grade level, so he began to use Read Naturally materials phonics levels and then on to his own grade level. He rapidly increased his fluency rates as well as comprehension. His stuttering issues have cleared up along with social awkwardness. He is now an avid fourth grade reader who loves exploring a multitude of topics. I have been so proud of Brighton's progress, but he is responsible for all of his growth. I consider him a bright star student.
The Read Naturally Star Student of the Month program is designed to celebrate students who work hard to improve their reading skills. Each month, we select one student to feature in our newsletter. The selected student wins a $50 Barnes & Noble gift card, and the school or teacher who nominated that student receives a $200 gift certificate for Read Naturally materials.
If you entered the drawing and your student did not win this month, he or she will remain in the selection pool for future months!
To nominate your deserving student, visit the entry form.