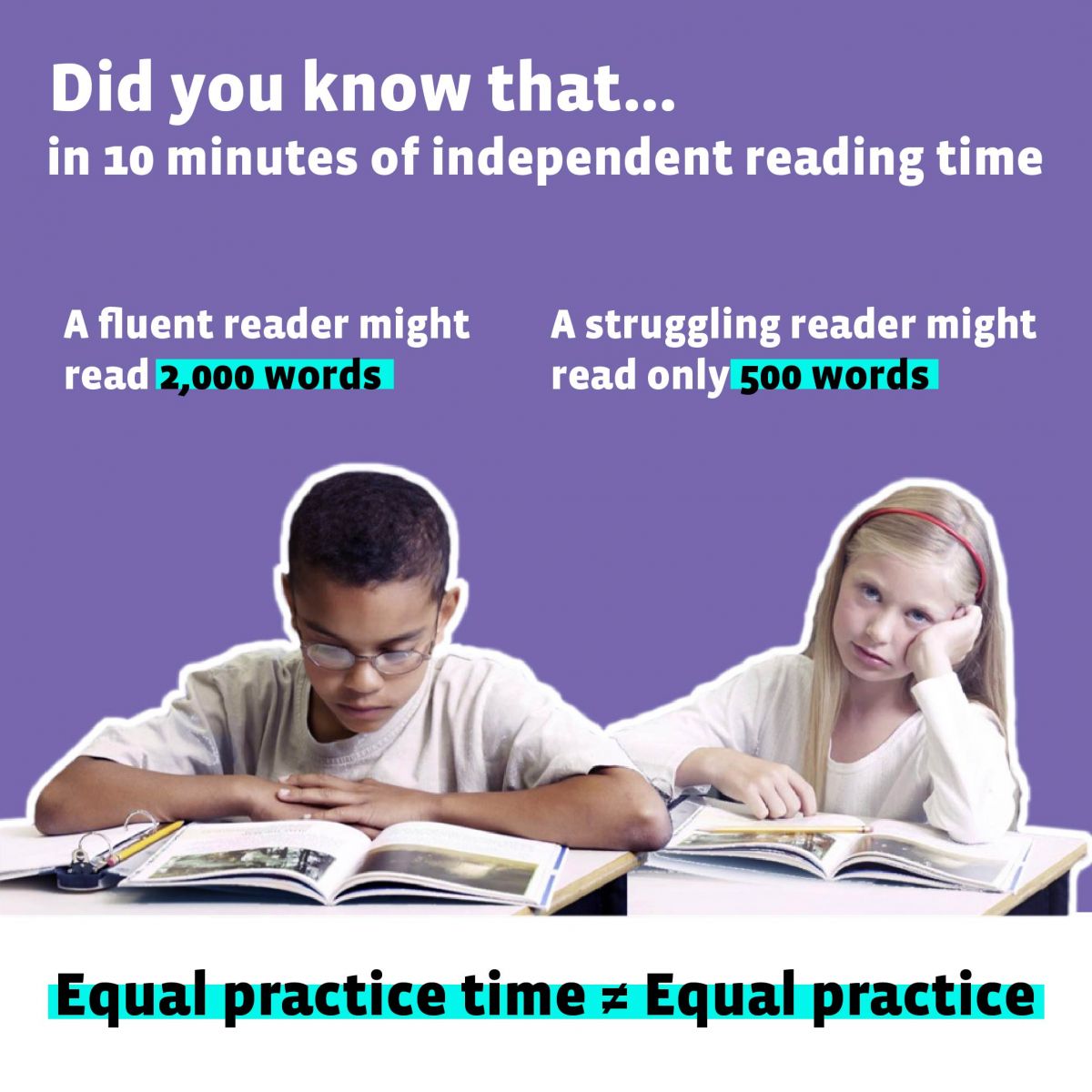 Back when Read Naturally founder Candyce Ihnot would present at full-day seminars, she would often start by telling a story about her youngest child, Tommy. One day, Tommy came home from elementary school and angrily declared, "I hate school." Tommy was the son of two schoolteachers—his declaration was basically blasphemous! When Candyce asked him to explain why he hated school, his lip started to quiver. He told his mom about independent reading time. "She doesn't even know," he said of his teacher, "I can't read."
In Tommy's case, independent reading time—often used as a way to help students love reading—made him feel like a failure. This incident occurred nearly 30 years ago, but unfortunately, it still happens all the time. Research analyzed by the National Reading Panel suggests that just encouraging students to read independently does not improve reading achievement as effectively as other practices. This is because, too often, independent reading time doesn't actually result in increased reading. What do at-risk and struggling readers do during DEAR (Drop Everything And Read) or SSR (Sustained Silent Reading) time? Often, they just look at pictures or, even worse, they grow to dislike reading (and school) as their confidence diminishes.
Instead, struggling readers need a program like One Minute Reader Live, which transforms independent reading time into an exciting, guided reading experience. One Minute Reader Live is part of the Read Live suite and uses the evidence-based Read Naturally Strategy to help students develop fluency, vocabulary, and comprehension. This program was developed by reading teachers and is based on the Science of Reading. Students work independently at their own pace and read at an appropriate level of material. The program guides readers through a series of steps and tracks their progress. The independent system includes complete audio support for the instructions, the recordings of each story, the signals indicating correct or incorrect responses, vocabulary word definitions, and pronunciation for each word. The game-like computerized scoring enables automated correction of questions, calculation of fluency and comprehension scores, points earned for completing activities, and graphing and reporting of performance. Options are available to customize the program for individual readers to maximize achievement. Students stay engaged and motivated as they build their reading skills--and their confidence.
When struggling readers use One Minute Reader Live, they experience the opposite of what Tommy felt during independent reading time. They come away knowing they CAN read, and this euphoric realization makes them want to keep doing it.
If you are a Read Live user, One Minute Reader Live is free to you as part of each Read Live license. Your students can use One Minute Reader Live at school during independent reading time. They can also use it for free at home over spring and summer break! Click here if you would like to get started with an extended free trial of Read Live, available through the end of the school year.* There is also a home version of One Minute Reader available to parents for $8/month. As always, please connect with us if we can support you in any way.
*Extended free trials end June 30. Purchase Read Live before your trial expires, and get your first four months of the program for free!