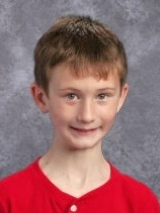 Read Naturally's March Star of the Month is Landon H. from Lisbon, NY. Landon is a third-grader at Lisbon Central School, where he works with Ms. Richardson in Read Live. Since returning from distance learning, Landon has made great strides in his reading. His attention to detail and motivation to continually improve often earns him all five ribbons on his Read Naturally Live stories. Ms. Richardson shared the following about Landon's reading success.
Landon started last year with me as a struggling reader. He started the program reading at the 0.8 Phonics level, but once we got his confidence up, he quickly moved up to a 1.3 Phonics program. Then we had to go remote in March and little did we know that would be the last time we saw our kiddos in person for that school year. Landon did little work on the program while remote despite our best efforts. Since returning in September, Landon has made such gains that he is now almost complete with a 2.5 Sequenced program. He is earning all 5 "ribbons" on his stories, and challenging himself to do better with each and every story! Landon especially tries hard to reach a higher wpm score each practice that he does. In the beginning of the 2020-2021 school year, Landon began with 65 wpm as his goal. By November he had increased to 75 wpm, and by February Landon was ready to raise his goal again to 90 wpm! This was all while working both remotely and in person! The excitement in his eyes when he surpasses his own expectations is truly something to behold, and we cannot be more proud of him. He began the 2019-2020 school year at a level F, F&P, and now is reading at an independent level K, F&P! Keep up the great work Landon!
The Read Naturally Star Student of the Month program is designed to celebrate students who work hard to improve their reading skills using Read Naturally's intervention programs. Each month, we select one student to feature in our newsletter. The selected student wins a $50 Barnes & Noble gift card, and the school or teacher who nominated the student receives a $200 gift certificate for Read Naturally materials.