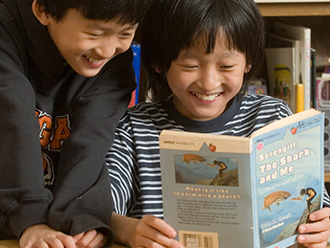 When you ask your students about their winter break plans, do you think they'll include READING in their list of activities? If not, be sure to remind them how much fun it can be to spend open-ended days with exciting books or literacy-boosting games and apps. What's more, these activities will strengthen their skills so that they can return from the break ready to smash their Read Naturally goals and move up levels.
Many students are feeling a lot of momentum this time of year as they've become more competent in reading and are advancing through Read Naturally stories and levels more quickly. Be sure to capitalize on their motivation and help them sustain it over the break.
Here are some at-home tools that can help keep your students excited about reading over the break:
In addition, here is a helpful article which includes literacy-boosting ideas parents can easily implement with their children at home. Parents can support their children in writing thank-you notes, helping to make grocery lists, reading the directions of board games, etc. And, of course, nothing is better than if parents carve out time for their children to read independently and together on a cozy winter's day.
We hope you get a chance to read some new books over the break, too! We look forward to working with you in the New Year to help your students' literacy skills continue to soar. Happy Holidays!