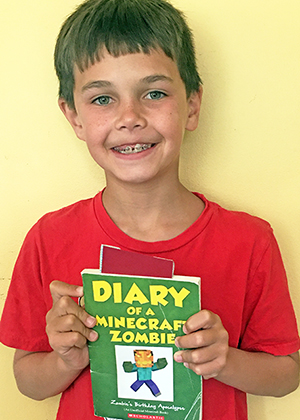 Congratulations to Connor K., Read Naturally's Star of the Month winner for June. Connor is a third-grade student at St. Thomas the Apostle School in Glen Mills, PA, where he works with his teacher, Lisa Glavin, on improving his reading using Read Naturally programs. When schools closed for COVID-19, they switched to a distance-learning model. Connor seamlessly went from working in the Read Naturally paper and pencil version to the web-based Read Live. Ms. Glavin was impressed with the transition and nominated Connor for his hard work and commitment to improving his reading. He even plans on continuing the program through the summer. Here is what Ms. Glavin shared with us about Connor's recent success:
Connor has used Read Naturally in the classroom with great success! Due to the pandemic, we moved to using Read Naturally Live online thanks to the generosity of Read Naturally providing complimentary licenses. Connor took advantage of this wonderful opportunity to use Read Naturally Live at home. He met his goals at his level and his mom asked to readjust it and increase to a higher level of reading material. Connor was able to adjust to his new level and had great success as well! Connor is a wonderful student who always puts forth excellent effort in all he does. He embraced the online format of Read Naturally Live and really enjoyed it! He plans on continuing its use throughout the summer!
The Read Naturally Star Student of the Month program is designed to celebrate students who work hard to improve their reading skills using Read Naturally's intervention programs. Each month, we select one student to feature in our newsletter. The selected student wins a $50 Barnes & Noble gift card, and the school or teacher who nominated the student receives a $200 gift certificate for Read Naturally materials.