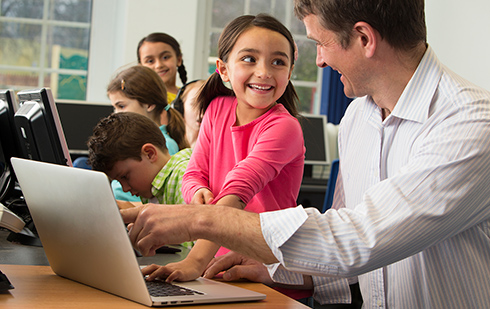 Choir singers sing up and down the scale before a concert. Basketball players shoot dozens of layups before a game. Actors rehearse their lines over and over before filming a scene. The purpose of these warm-up exercises is to ingrain processes into the brain until they become automatic. Then, when the big moment arrives—when it's time to sing, make a shot, or film a scene—the warmed-up skill is more likely to deliver the desired result.
Striving readers require warming up, too. Fluency happens when the brain is able to process words quickly and automatically, which takes consistent practice. We developed Word Warm-ups to provide this practice in a fun and effective format. This research-based phonics program develops mastery and automaticity in phonics and decoding with systematic instruction and multiple opportunities for students to decode and encode words. This repetition helps students rapidly read hundreds of words, freeing their mental energy to shift from decoding to comprehension.
Today, we're pleased to announce that we have incorporated this popular tool into Read Live. Word Warm-ups Live will be available this fall at no additional cost to Read Live subscribers.
Students typically work in Word Warm-ups for around 10 minutes per day prior to working on their Read Naturally stories. The Word Warm-ups Live process is as follows:
After receiving direct instruction in the featured phonics elements of each exercise, the student practices reading the word lists to develop decoding skills and automaticity in reading the words.
The student then spells five words from the word list to link the decoding and encoding of featured phonics patterns, deepening the student's mastery of both reading and spelling skills.
A high-interest, nonfiction story in each section provides the opportunity to read words with the featured phonics pattern(s) in connected text. The student demonstrates an understanding of the story during a Quick Quiz.
Word Warm-ups Live features extensive audio support, a structured instructional process, and computerized scoring and reports. Additional highlights of the program include...
Differentiation for students who need extra phonics instruction.
Motivation through graphing progress.
Practice and systematic review to solidify learning.
Instruction in the most common phonics patterns.
An assessment to place students in the appropriate level and lesson.
We're excited to offer this research-based intervention as part of Read Live, and we're eager for your students to reap the benefits. We're hosting a short webinar to demonstrate the basic features of Word Warm-ups Live and show how the program fits within Read Live. Join us Thursday, August 27 at 11:00 CDT to learn more about this exciting new phonics program. Link to recorded webinar. As always, contact us anytime to discuss Word Warm-ups Live or any of our other reading solutions.