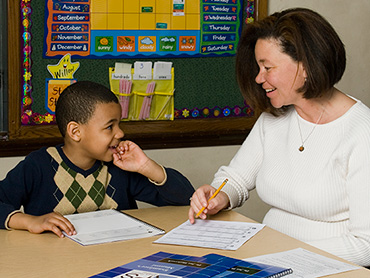 Quick Phonics Screener (QPS), developed by renowned literacy expert Dr. Jan Hasbrouck, is one of our most popular assessment tools. Teachers who have used QPS can attest to the fact that it is a convenient, inexpensive, and accurate way to identify individual students' strengths and instructional needs in phonics/decoding. Once these needs are identified, teachers can make informed decisions about how to support students in their literacy development. We are pleased to announce that this handy tool is now upgraded and better than ever!
The latest version of QPS, QPS Third Edition, includes a brand new assessment, Quick Spelling Survey (QSS). The two assessments, QPS and QSS, are based on the same continuum of phonics skills and work together to evaluate both decoding and encoding. Teachers may now screen groups of students with QSS to determine which students should be assessed individually with QPS. Three forms of each assessment for monitoring progress from fall to winter to spring are included, as well as student scenario examples and convenient summary score sheets for each assessment.
Teachers using QPS Third Edition can…
Easily assess students, kindergarten through adult, in phonics and spelling.
Quickly measure phonics skills of individual students (decoding) or spelling skills of an individual or group (encoding).
Assess selected skill sets to confirm mastery of specific phonics skills.
Document changes in student performance throughout the school year.
Efficiently communicate student results with colleagues and parents.
Utilize assessment data to make instructional decisions.
Visit our website to learn more about QPS Third Edition and order your copy today!