Have you heard of the fourth-grade slump in reading? Research shows that many students experience a decline in their reading ability around grade four, and this decline is linked to the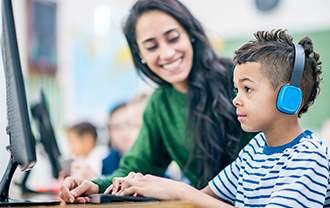 size of their vocabulary. Studies indicate the following:
"Students with low vocabulary development were able to maintain their overall reading test scores at expected levels through grade four, but their mean scores for word recognition and word meaning began to slip as words became more abstract, technical, and literary."(Chall, Jacobs, and Baldwin, 1990)
As students become older and more proficient in reading, the text they're reading becomes more complex. Perhaps the greatest factor in the complexity of a text is vocabulary. Rich vocabulary makes text deeper, more exciting, more meaningful—and, yes, more difficult to read. If students are not actively building a robust vocabulary and working on vocabulary acquisition skills from the start, they risk falling behind at this crucial stage in their reading development.
That's the bad news. The good news is that all Read Naturally programs incorporate a strong emphasis on vocabulary development. Because we understand the crucial role vocabulary plays in reading comprehension, we have relentlessly ensured that our reading solutions foster substantial vocabulary growth at every level—always in research-based, meaningful, and student-friendly ways.
More information about how Read Naturally programs foster vocabulary acquisition is available here. As always, feel free to contact us with specific questions related to vocabulary or any other aspect of your students' reading development.