"While we may ultimately teach students enough test-taking strategies to eke out a passing score and earn that high school diploma, we are missing a crucial opportunity to show our students that they, too, can be real readers."
If you've ever felt frustrated with the "teaching to the test" mentality in schools, this statement probably strikes a chord. It appears in a recent Education Week article, The Importance of Real Reading for Resistant Readers, by Meaghan Hanrahan Dobson*.
In the article, Dobson explains how, with the best of intentions, educators often teach strategies to resistant readers in danger of failing state tests and don't offer them the opportunity to read self-selected texts. Why? Because the test deadline is looming, and educators want to make the most of their precious little instruction time. Plus, as Dobson states, the frustrations are all too common: "the hidden or not-so-hidden cell phone, the head down on the desk, the turning of pages without actually reading."
And yet, if these students were to experience the enjoyment of engaged, authentic reading, these frustrations wouldn't be so common—and test performance would naturally improve.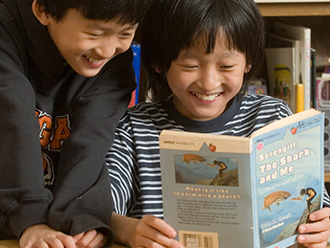 To achieve this, students need to develop the habit of reading solely for enjoyment. Dobson recommends making time for students to read self-selected material every day. When we allow students to choose any reading material that appeals to them, they tend to use their time wisely. If they've chosen poorly and are not engaged with what they picked, let them find something else. Engagement is key. "We can't lose sight of the most important thing that readers do: read with the expectation that they will learn or enjoy something."
Helping students become fluent so that they may experience this love of reading is our raison d'être here at Read Naturally. Like Dobson, we firmly believe in the power of self-selected texts. When using our programs to build fluency, the first thing a student does is select any story he or she wants to read. We offer a wide variety of high-interest, nonfiction stories so that students of all ages can find something appealing. The topics are entertaining and informative. Students using Read Naturally love learning about exciting festivals, infamous pirates, fascinating jungle animals, and everything in between.
As you know, when motivation and engagement are present, the rest is easy. Educators often tell us that even their most reluctant readers become captive learners when using Read Naturally. Self-selected texts are a key reason why.
Resistant readers are those who have not yet learned how enjoyable reading can be. Visit our website to learn more about the many benefits of our programs for these students. We'd love to send you a free trial!
*Note that Education Week articles are accessed on a tiered subscription model. Non-subscribers can enjoy three free articles per month.