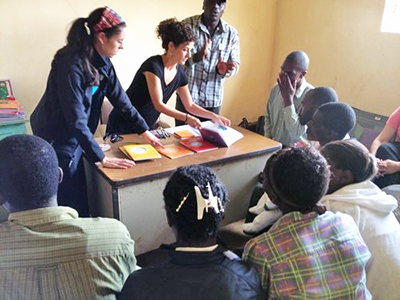 Cassie Fothergill, Jeff Stegall, and others used the One Minute Reader books while on a mission trip in Haiti. Here is their story:
A team of six missionaries from First United Methodist Church of Temple, Texas, joined Hope for the Hungry of Belton, Texas, to reach out to the schools and orphanages of Marothierre and Guibert, Haiti. Thanks to a generous donation from Read Naturally, we were able to spend much of our time working with local teachers and children. The literacy training was well received, and it was a wonderful gift to be able to leave the books, CD players, and batteries with the schools. Our team worked on basic phonics skills with the teachers with limited English proficiency, and literacy strategies with the teachers who were able to read and speak English. We were also able to bring literacy centers to the children in grades 7, 8, and 9. It was a joy to see them explore learning in new and different ways and with such wonderful materials. Thank you again for your generous donation to the people of Haiti.
To learn more about Hope for the Hungry, visit their website.