Earlier this year, we offered a free resource to all Signs for Sounds users. Kristin McDaniel, an educator in California, created Signs for Sounds Level 1 Word Sorts—a great activity for students to extend their learning after completing a Signs for Sounds lesson. We offered these Word Sorts, with instructions, for free on our website. Educators couldn't download the content quickly enough—which is why we're now offering even more! We're happy to report that Signs for Sounds Level 2 Word Sorts are now available to download, for free!
Each Signs for Sounds lesson now has a corresponding word sort. Completing word sorts in conjunction with Signs for Sounds lessons helps solidify students' understanding of the featured words and patterns.
Students use "line-leader patterns" to create lists of words with shared patterns. Students also separate out spell-out words and/or words that do not match one of the line-leader patterns into their own column. Students can work on the word sorts as independent work after completing Signs for Sounds lessons, or the teacher can direct the word sort activity during small group instruction.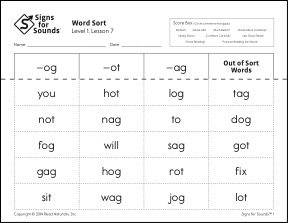 Example of a Word Sort from Signs for Sounds Level 1, Lesson 7
Here are some ideas for using Signs for Sounds Word Sorts:
After the student cuts the words apart and sorts the words below the line-leader patterns in the header, the teacher (or another adult) can check the student's work. Then the words can be gathered into a plastic zip bag or envelope and used again to sort and review the words the next day.
The student can be directed to cut the words apart, sort the words, and then glue the header and each word in the correct column on a second piece of paper. This allows the teacher to check the student's work at a later time.
When checking a student's work, the teacher can extend this independent work a step further. By directing a student to read the words down each column and across each row, the teacher can confirm that the student is able to read each word within the pattern (reading down), mix the patterns (reading across), and read the "Out-of-Sort Words."
We hope you use this free content to enhance your Signs for Sounds program! For more information, check out our original article about Kristin McDaniel, the educator who shared this great resource with us. Use the links below to download and share:
Signs for Sounds Level 1 Word Sorts
Signs for Sounds Level 2 Word Sorts