When you were a kid, what were your favorite chapter books? I couldn't get enough of the Anne of Green Gables series (the heroine had me hooked from the first pages, when she insisted on the "e" at the end of her name). My seven-year-old currently laughs out loud (and stays up way past bedtime) reading Judy Blume's Fudge books. We loved the B.F.G. so much we're hoping to see the movie later this summer. And who doesn't love the Magic Treehouse series? Everywhere I turn, I seem to meet another Jack and Annie fan.
The truth is, there are SO many great chapter books out there, it can get a little overwhelming for kids (and adults) to choose which ones to read. Thankfully, the internet is full of some handy lists. We recommend the following:
The Popular Children's Chapter Books Shelf on Goodreads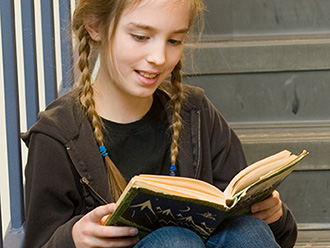 The Timeless Chapter Books List from Scholastic
100 Best Children's Chapter Books of All-Time
You can also find age-specific lists easily by googling the type of book (e.g. chapter books) and age range (e.g., fourth grade) you're looking for.
For your reference, we've compiled an alphabetical list, below, of some of our favorites for all ages. It's by no means complete! Which of these books have you and your students read? Which books would you add? What's missing from your bookshelf? Summer is a great time to stock up on a few new favorites.
Often, all it takes is one great book or series to get a child hooked on reading. This year, if a student approaches you not knowing what to read, pull out this list and see what piques his or her interest. Who knows, you might get hooked on a few of these books as well. Happy reading!
A Wrinkle in Time
Anne of Green Gables, series
Because of Winn-Dixie
The BFG
The Borrowers
Boxcar Children, series
Betsy-Tacy, series
Bromeliad Trilogy
Charlotte's Web
Charlie and the Chocolate Factory
The Children of Noisy Village
The Chronicles of Narnia
Clementine, series
Danny, the Champion of the World
The Doll People
The Enchanted Castle
Fantastic Mr. Fox
Flora and Ulysses
Fortunately the Milk
From the Mixed-Up Files of Mrs. Basil E. Frankweiler
The Giver
Gone-Away Lake
The Great Brain, series
Harry Potter, series
Harriet the Spy
Hatchet
Heidi
Henry Huggins, series
Holes
The Hundred Dresses
Island of the Blue Dolphins
The Invention of Hugo Cabret
Ivy & Bean, series
James and the Giant Peach
Lemony Snicket, series
The Lion, the Witch, and the Wardrobe
Little House on the Prairie, series
The Little Prince
Little Women
Magic Tree House, series
Mandie, series
Mercy Watson, series
The Miraculous Journey of Edward Tulane
My Father's Dragon, series
Nancy Drew, series
Number the Stars
The Penderwicks
The Phantom Tollbooth
Ramona Quimby, series
Roll of Thunder, Hear My Cry
The Secret Garden
Stuart Little
Superfudge
The Tale of Despereaux
Tales of a Fourth Grade Nothing
The True Confessions of Charlotte Doyle
Trumpet of the Swan
Tuck Everlasting
The Velveteen Rabbit
Where the Red Fern Grows
Wind in the Willows
Wonder