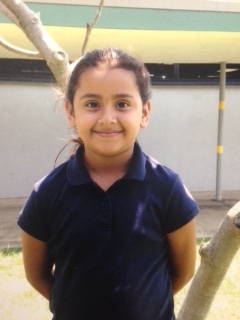 Congratulations Karina H. from National City, CA for being Read Naturally's February Star Student! Karina is a 3rd grade student at El Toyon Elementary. Below is what her teacher, Silvia Toledo, had to say about Karina.
Karina is an amazing person and a wonderful student. She is hard working, thoughtful and extremely helpful. I began using Read Naturally with her as an intervention program at the end of August. She placed at a level 1.5 with a cold score of 50 wpm. We set her goal at 80 wpm and she was so excited and ready to "beat her goal." Her enthusiasm and dedication moved her up through the levels quickly. Six months later, she is now working at a 3.0 level. I am so proud of her and this grand accomplishment! Read Naturally has proven itself to me and I am very grateful for the progress Karina has made as a result! She is truly deserving of the Read Naturally Star of the Month Award!
The Read Naturally Star Student of the Month program is designed to celebrate students who work hard to improve their reading skills. Each month, we select one student to feature in our newsletter. The selected student wins a $50 Barnes & Noble gift card, and the school or teacher who nominated that student receives a $200 gift certificate for Read Naturally materials.
If you entered the drawing and your student did not win this month, he or she will remain in the selection pool for future months!