Today, we are pleased to announce the release of Read Naturally Encore II. Encore II is an update to our popular fluency-building program, Read Naturally Encore. Encore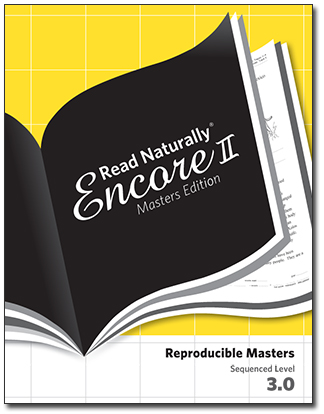 was built on the evidence-based Read Naturally Strategy to accelerate reading achievement using print materials and audio CDs. Like its predecessor, Encore II uses this same time-tested foundation, ensuring the program will continue to serve students for years to come.
Encore II boasts many exciting new features. Most significantly, this update marks the debut of 20 brand new Read Naturally stories. These stories cover highly interesting topics such as pink lakes, mysterious Nazca lines, life-saving rats, a human computer, and more.
For the first time, Placement Packet content does not overlap with Encore content. Stories in the Placement Packet (which teachers use to assign students to the appropriate level of material) are not included in the Encore II levels.
In addition to the 20 new stories and the standalone Placement Packet, Encore II features revisions to 160 existing stories to meet our high standards of accuracy and readability. Further changes in Encore II include updated answer keys featuring complete sentences in levels 3.0 through 8.0; over 650 new or revised vocabulary words; and over 400 new or revised comprehension questions.
And that's not all! Encore II also includes major improvements to our phonics series. Changes to the phonics series include:
A brand-new writing activity that directs student to write three specific words from the Word List. This activity builds phonics and writing by requiring students to make connections between reading and writing/encoding and spelling.
Updated Word Lists.
New lessons in compound words, closed syllables, and open syllables.
Over 90 new or revised vocabulary words.
Additional improvements to print and audio.
Clearly, our curriculum team has been working tirelessly on Encore II to deliver the best version of this effective program. All updates were made in the interest of improving student outcomes and helping striving readers become fluent. Click here for more information about Encore II, and place your order today!