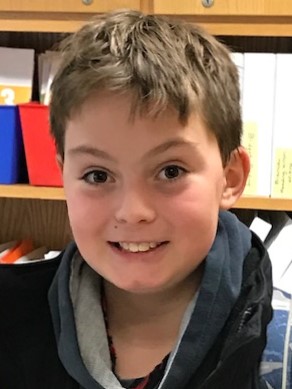 We're excited to round out 2018 Star of the Month winners with Evan G. from Lynnfield, MA. Evan is a fourth-grade student at Huckleberry Hills Elementary school. Evan is like the team captain of his reading group with Ms. McNamara: continuously ensuring his group has what it needs and leading by example in his work. Ms. McNamara nominated Evan because, not only is Evan a kind and hardworking student, but he has made tremendous progress in his reading recently. Here is what she shared with us about Evan's success in Read Naturally Live.
Evan is a star in all sense of the word! He started Read Live in 3rd grade. He was a struggling reader and was reading below grade level (J). His goal was 75 WPM. By the second term of 3rd grade, he upped his goal to 100 WPM, due to his cold timings being 75 WPM. His quiz scores averaged 62%. Evan started at 3.0 and is currently at 3.5. Since the beginning of 4th grade we have upped his WPM goal to 125! His quiz scores have been averaging 80%. On a recent running record, Evan read a level N book at 93 WPM with 95% accuracy and 80% comprehension. Although he is still below grade level, he has made tremendous progress! Evan takes Read Live very seriously - every morning he picks up the Chromebooks in our Media Center for the group to use. At the end of every day, he brings the Chromebooks back to the Media Center and plugs them in. Evan volunteered to do this job - he even makes sure everyone is accounted for in the group and will go and get a student if they are missing! I don't know what I'd do without him!
The Read Naturally Star Student of the Month program is designed to celebrate students who work hard to improve their reading skills using Read Naturally's intervention programs. Each month, we select one student to feature in our newsletter. The selected student wins a $50 Barnes & Noble gift card, and the school or teacher who nominated the student receives a $200 gift certificate for Read Naturally materials.