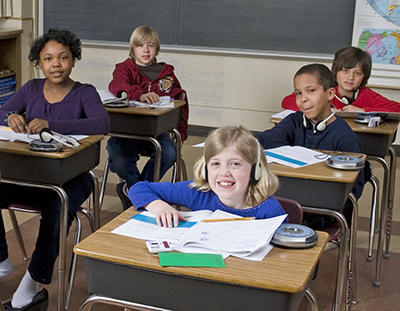 Read Naturally has another solution for enhancing students' vocabulary in the critical middle grades. Take Aim at Vocabulary – Small-Group Format is a new instructional model for our original Take Aim program. This product is an ideal solution for small groups of students whose assessment scores indicate a weakness in vocabulary or who need support in learning the meanings of unknown words in text.
Take Aim at Vocabulary – Individual Format was released in 2008. This intervention allows students to work mostly independently on vocabulary skills and strategies. Students using the program learn hundreds of useful vocabulary words as well as strategies for deciphering unknown words. Since the release of Take Aim, we've received rave reviews from teachers who note the tremendous impact the program has on their students' vocabulary development.
However, the individualized format is not always a convenient solution for teachers who want to address vocabulary as a group activity. We are pleased to offer Take Aim at Vocabulary – Group Format to fit a small group instructional model. The group format of Take Aim uses the same powerful materials as the individualized version of Take Aim, but the packaging, lesson plans, and procedures are designed for group work. Multiple copies of the textbook are provided for each unit so that small groups can work in the same unit at the same time.
Teachers using the group format of Take Aim have the option to choose a teacher-directed approach in which the teacher provides more intensive instruction to groups of students. Or, teachers can opt for the teacher-connection model, which allows groups of students to collaborate with periodic teacher support. Groups of students work through lessons using full-color textbooks and audio CDs. Teacher resources and student worksheets are conveniently provided in PDF format so that teachers can easily print the quantities needed and/or project the materials to a white board.
Visit our website for more information on this new product, or call 800.788.4085 to discuss your needs with our customer service staff.