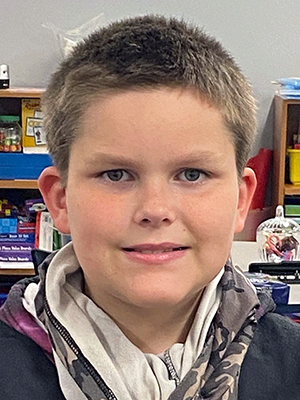 Congratulations Jayden H. on being named Read Naturally's Star of the Month! Jayden is a fifth grade student at Clear Lake City Elementary in Houston, TX. Jayden had a tough time adjusting to distance learning due to COVID 19 but has recently gotten the hang of things and taken off. Jayden's teacher Ms. Odell nominated Jayden for his incredible improvement and new dedication to the use of Read Naturally to improve his reading and overall learning. Ms. Odell had this to say about Jayden H.
Jayden started Read Naturally last year but really struggled with the thought of using the program for reading and then COVID hit and due to circumstances, he wasn't able to work on it during the last part of the year. With everything that has gone on, when school started back up this year, Jayden struggled with learning and being able to focus on school with all the worries he had going on. We continued with Read Naturally and in the last few weeks, Jayden has really made a turn around. So much so that when another school staff talked to him about the change, he told her that it was because of using Read Naturally with me in our class. Jayden has really taken to using the program and loves challenging himself to read even more fluently and get all 5 stars the first time. I am so proud of Jayden, his hard work, and the fact that he was able to recognize that it's this work that is making a difference in his education and his self-esteem. Keep up the great work Jayden!
The Read Naturally Star Student of the Month program is designed to celebrate students who work hard to improve their reading skills using Read Naturally's intervention programs. Each month, we select one student to feature in our newsletter. The selected student wins a $50 Barnes & Noble gift card, and the school or teacher who nominated the student receives a $200 gift certificate for Read Naturally materials.