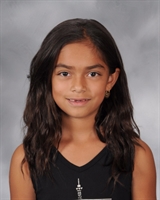 Ashley R. from Yucaipa, CA is Read Naturally's September Star of the month. We commend all her hard work in Read Naturally Live so far this year. Ashley is a fourth-grade student at Calimesa Elementary School and was nominated by her teacher, Ms. Fuller, for her remarkable progress in Read Naturally Live. Here is what Ms. Fuller had to say about Ashley's success:
Ashley started the year as a shy and somewhat reluctant reader. She has blossomed into a reader who now enjoys reading in and out of the classroom. Ashley has made gains in reading skills and even greater gains in reading confidence. She will voluntarily participate in activities that involve reading aloud and will offer ideas and opinions in the small group setting. Ashley looks forward to reading via Read Live four days each week. She gets great satisfaction from seeing her reading progress and a still-shy smile will emerge when she sees her reading graph grow. Recent assessments indicate that Ashley's reading progress through Read Live is transferring to other reading contexts as well. We are so proud of Ashley's accomplishments!
The Read Naturally Star Student of the Month program is designed to celebrate students who work hard to improve their reading skills using Read Naturally's intervention programs. Each month, we select one student to feature in our newsletter. The selected student wins a $50 Barnes & Noble gift card, and the school or teacher who nominated the student receives a $200 gift certificate for Read Naturally materials.
To nominate your deserving student, visit the entry form.