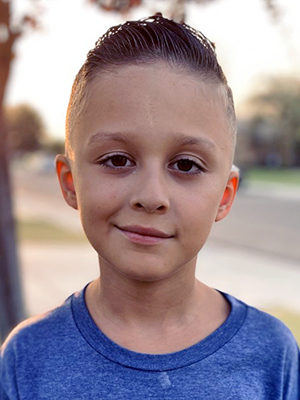 November's Star of the Month, Logan C., is in third grade at Buena Vista Elementary in Bakersfield, CA. He has taken a running start when it comes to Read Live, increasing his word correct per minute score by more than 10 words in the first two weeks of using Read Live. Logan's teacher nominated him for his self-motivation and positive attitude when working with Read Live. Ms. Oliver had this to share with us about Logan's incredible success.
Logan is a third grader who has consistently participated in our in person intervention program with some progress. In distance learning, he consistently shows up to zoom for cold timings and pass activities, and works on Read Live on his own time as well. He stands out as a star in our distance learning intervention because of his good attitude, hard work, and progress. The start of Read Live was slow for Logan. Because Read Live is new to our school we had some bugs to work out. (We didn't know what we were doing.) Logan showed up on zoom everyday for over a week ready to start Read Live. We finally figured out how to get his account going and he was able to start on October 19. In Read Live Logan is working on level 2.5. In the two weeks he has been able to use Read Live, he has improved his Cold Timing by an average of 14 wcpm. He has met and exceeded his goals and excelled in comprehension. I am confident that he will soon be changing to a higher level because of his efforts. I am also hopeful that Logan may be able to achieve on grade level reading ability due to his participation in the Read Live program. Logan is making the best of distance learning and Read Live is already proving to be a powerful tool in helping Logan work toward meeting grade level expectations in reading.
The Read Naturally Star Student of the Month program is designed to celebrate students who work hard to improve their reading skills using Read Naturally's intervention programs. Each month, we select one student to feature in our newsletter. The selected student wins a $50 Barnes & Noble gift card, and the school or teacher who nominated the student receives a $200 gift certificate for Read Naturally materials.