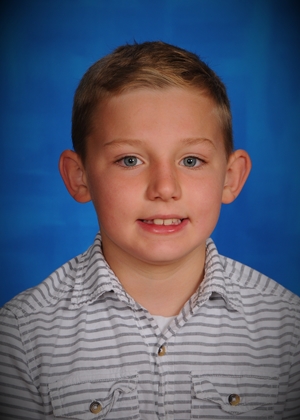 Congratulations, Landon B. from Reardan, WA on being named the first Read Naturally Star Student in 2016. Landon is a fourth-grade student at Reardan Elementary School. His teacher, Ms. Boleneus, nominated Landon for the strong commitment he has shown to improving his reading this year. Here is what Landon's teacher had to say about him:
Landon B. is a 4th grader from Reardan Elementary School in Reardan, WA. Landon has been in Read Naturally/Read Live for 3 years.
Landon's growth this year has been tremendous. He comes into the Read Live computer lab with enthusiasm and determination. At the beginning of this year, Landon's cold time was 40 words per minute. He has more than doubled his cold time to 90 words per minute. He often starts and completes a story within a day. Landon's success in the Read Live program has given him confidence both in and out of the classroom. He is consistently making gains with his fluency. He is receiving 80% or better in his inferential and short answers and 100% in detail questions.
I am so proud of Landon! He is a testament to what persistence can do with this program!
The Read Naturally Star Student of the Month program is designed to celebrate students who work hard to improve their reading skills. Each month, we select one student to feature in our newsletter. The selected student wins a $50 Barnes & Noble gift card, and the school or teacher who nominated that student receives a $200 gift certificate for Read Naturally materials.
If you entered the drawing and your student did not win this month, he or she will remain in the selection pool for future months!
To nominate your deserving student, visit the entry form.