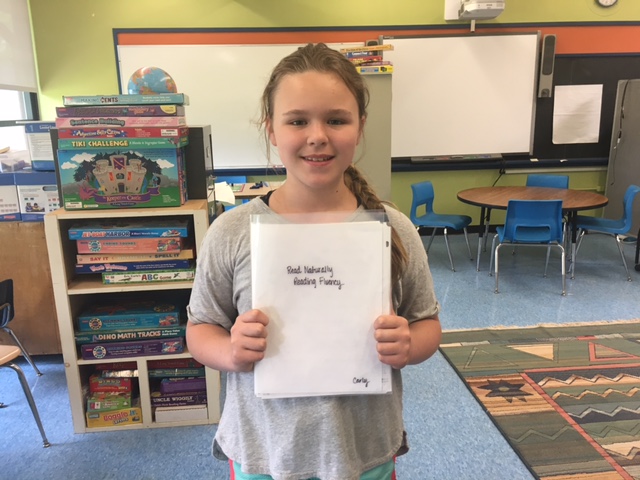 Another school year means a new round of our popular Star Student of the Month program, which celebrates the hard work and success of many dedicated Read Naturally students. Today, we're celebrating our Summer Star Student, Carly C. from Hamilton, MA. Carly was nominated by her teacher, Jenn Sperry, who shared these words about Carly's reading success:
Carly is a fifth grade student at Winthrop School. I began working with Carly toward the end of her fourth grade year. At the time, Carly was reading below grade level. Initially, I was not using Read Naturally as an intervention. I was using another fluency program, which Carly did not appear to enjoy. While she was making some progress, I felt that with Read Naturally, she could make more consistent gains. I decided part way through her fifth grade year to change Carly's reading fluency program to Read Naturally. I had used this program before with previous students and had seen great results. Right away, Carly was motivated and she appeared to enjoy Read Naturally. Since switching Carly to Read Naturally, she has consistently exceeded her fluency goals. Carly is reading at grade level and she is averaging between 80% and 100% on the comprehension questions. I am so proud of Carly for what she has accomplished this year. I have seen her gain so much confidence in her reading skills and I could not be more proud of her!
Congratulations to you, Carly!
Do you know about our Star Student of the Month program? Have you entered a student? It's simple to do!
To nominate your deserving student, just fill out this entry form. Each month, we select one student from the pool to feature in our newsletter. The selected student wins a $50 Barnes & Noble gift card, and the school or teacher who nominated the student receives a $200 gift certificate for Read Naturally materials. Students who do not win in the month they were entered will remain in the selection pool for future months.
The Read Naturally Star Student of the Month program is designed to celebrate students who work hard to improve their reading skills. We love to highlight their success! We hope you'll give a deserving student (and yourself!) a chance to win this year.
P.S. If you really want to see your students soar, get them started with Read Naturally Live! Click here to try it free for 60 days.