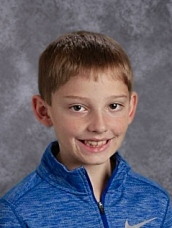 Congratulations to Ashton L., our January Star of the Month! Ashton is a fourth grader at Riverside Elementary School in Brainerd, MN. Here is what his teacher, Ms. Tollefson, shared about him:
I have been teaching reading interventions with Ashton since he was in third grade. When he started third grade, he was a non-reader. His reading level was too low to attempt the Read Naturally Program. When he began fourth grade, he could finally read enough to take the placement test. It has been amazing to watch him grow and thrive through each of the lessons. In the beginning of fourth grade, he was at the 1.0 level. He could only read 27 words in a minute on a cold read. Through his hard work and working with the Read Naturally Program, he can now read 70 words on a cold read and is moving through the reading levels quickly. He scores 100% on his vocabulary, inferential and short answer questions. He scores about an 80% on each of his quizzes. As his teacher, I've seen him make the most impressive growth in the areas of fluency and self-confidence as a reader. He would tell me in third grade how he could not read. Now, because of the Read Naturally Program, he will tell people he is a master at reading. That self-confidence has spilled over into his other academic areas too!
Way to go, Ashton!
The Read Naturally Star Student of the Month program is designed to celebrate students who work hard to improve their reading skills using Read Naturally's intervention programs. Each month, we select one student to feature in our newsletter. The selected student wins a $50 Barnes & Noble gift card, and the school or teacher who nominated the student receives a $200 gift certificate for Read Naturally materials.