Picture yourself participating in a parent-teacher conference for one of your students. If you are a literacy specialist, a Title 1 teacher, or a special education teacher, it is always a bit awkward when the regular classroom teacher or the parent turns to you and says, "I don't really know what Jamie does when he leaves class for reading intervention!" Even though regular classroom teachers and parents are usually involved in planning a student's intervention, and they receive several formal reports about a student's progress during the year, they may not necessarily be aware of what the student is doing day-to-day.
When a student passes a story in a Read Naturally strategy program, it is a big accomplishment! Students work through a number of steps for each story, and they must meet specific criteria in order to pass a story. They must read accurately, reach an individual wcpm (words correct per minute) goal rate, demonstrate good comprehension by answering quiz questions correctly, and read with expression. So, you may want to celebrate this big accomplishment—especially for very young students or struggling readers—by sharing the student's success with parents and classroom teachers.
One way to acknowledge success and communicate more frequently is to send an informal Reading Update to the regular classroom teacher and/or parent when a student passes a story. Check out the sample below.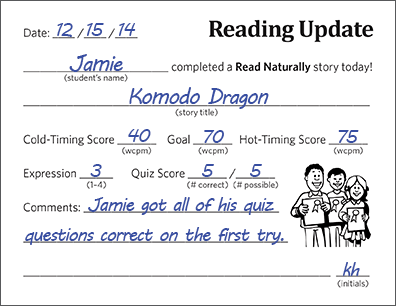 As the teacher passes the student on a story, the teacher can give the student a Reading Update to fill in (date, student's name, story title, cold-timing score, goal, hot-timing score, expression, and quiz score). The teacher can add a comment like "Great Job" or "Wow, 100% on quiz!" The teacher might choose to attach a copy of the story to the Reading Update with a comment suggesting that the student read the story to the regular classroom teacher or parent—a great way to acknowledge the student's progress!
If you want to try this effective way of communicating more frequently and celebrating progress, you can create your own version or download a free reproducible master of this Reading Update (four-to-a-page) from the Read Naturally website.
Some Read Naturally teachers have already developed similar forms for their own use. Do you send some kind of Reading Update to classroom teachers/parents? If so, we'd love to hear how it's working!