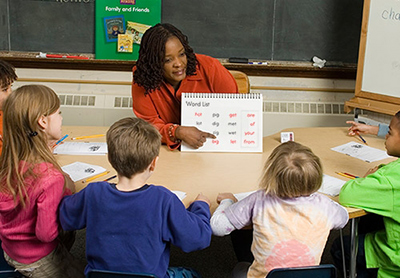 Ever feel like you need to be doing more with less time? That's why we couldn't leave well enough alone. We listened to your suggestions and totally re-made the Read Naturally GATE so that it is better than ever for you and your students.
What do YOU get out of New and Improved Read Naturally GATE?
NEW emphasis on high-frequency words:

Regular and irregular high-frequency words.
Brand NEW word lists to build mastery.

A whole NEW level (1.8 – blends and digraphs) to extend the instruction.
Easier class management with new educational wait-time activities.
EASY (and guilt-free) copying of student materials with blackline masters.
More time! – scripted lessons make implementation easy for teachers, paras, etc.
ONE tool to teach phonemic awareness, phonics, fluency, comprehension, and high-frequency words to a small group.
Confidence that you will improve the skills of Tier 2 and Tier 3 students.

Research-based.
Aligns with Common Core State Standards.
What do your STUDENTS get out of the best Read Naturally GATE ever?
Proficiency with letter sounds.
More time spent on high frequency words.
Improved fluency through stories and word lists.
A FUN system with improved stories and questions.
Increased comprehension through supporting activities.
We are really excited about this huge step for Read Naturally GATE and wanted to let you know about it as soon as possible. We will be able to ship the New and Improved Read Naturally GATE this fall.
Update: Now Available!