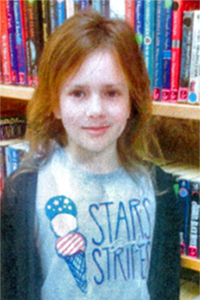 We tip our hats to Cheyenne H. for being named Read Naturally's Star of the Month for November 2016. Cheyenne is a third-grade student at Lohn Elementary School in Lohn, TX. Cheyenne was nominated by her teacher, Ms. JoAnn Garcia, for her accomplishments and growth in reading as proven by Cheyenne's recent success at the U.I.H Ready Writing competition. Ms. Garcia shared the following about Cheyenne's accomplishments:
Since we have started this program, I have seen so much improvement in each individual student. I am especially proud of my student Cheyenne. When she first started on Read live while in the second grad, she was reading only 20 words correctly per minute. She is now reading 130 words per minute and we are in the second six week period of her third grade year. I am so very excited for her because she has gained so much confidence in herself and she is proud of what she has accomplished. What better reward could a teacher ask for? Cheyenne has gone from making low C's and B's to making high B's and A's.
Just recently Cheyenne participated in Texas's University Interscholastic League Ready Writing competition and took 1st place! The Ready Writing contest gives students 2 hours to write expository pieces based on one of two prompts.
The Read Live program is preparing All of my students for a successful school career and more. These students will definitely be better prepared for their STAAR testing, beginning in March 2017.
The Read Naturally Star Student of the Month program is designed to celebrate students who work hard to improve their reading skills. Each month, we select one student to feature in our newsletter. The selected student wins a $50 Barnes & Noble gift card, and the school or teacher who nominated that student receives a $200 gift certificate for Read Naturally materials.
If you entered the drawing and your student did not win this month, he or she will remain in the selection pool for future months!
To nominate your deserving student, visit the entry form.
Learn how you can try Read Naturally Live Free for 60 days!