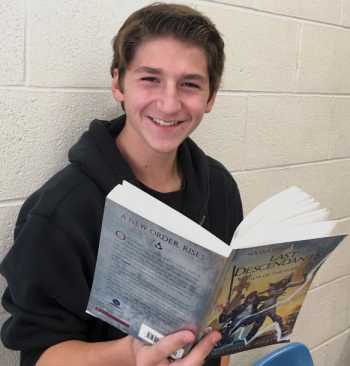 Congratulations to Caden D. from Fiskdale, MA, for being named Read Naturally's October Star of the Month. Caden is an eighth-grade student at Tantasqua Regional Junior High School. During the month of October, Caden increased both his words-correct-per-minute and quiz scores in Read Naturally Live. His Teacher, Ms. Cote, nominated Caden for his determination and success in becoming a better reader. Ms. Cote shared the following with us about Caden's achievements:
Caden has struggled with a significant reading disability his entire life. Caden has developed such amazing reading fluency through Read Naturally Live. I am so proud of his progress and growth! I am lucky to have the students in a small group reading class for two years. This is the start of my second year with Caden. This month his Hot Timing increased from 154 to 178 words per minute. He also increased his Cold Timing from 93 to 104 words per minute. While many students tend to drop in comprehension when increasing fluency, Caden also increased his comprehension quiz score from 78 to 89% accuracy. In the past, Caden was a reluctant reader who struggled to decode. While he always had a vast background knowledge, Read Naturally is now allowing him the opportunity to read independently. Academically, Caden is maintaining good grades. While Caden always puts forth tremendous effort, I feel he would not have been able to have achieved this level of reading fluency without your program. When I told him I wanted to nominate him for this honor, he was beaming with pride.
The Read Naturally Star Student of the Month program is designed to celebrate students who work hard to improve their reading skills using Read Naturally's intervention programs. Each month, we select one student to feature in our newsletter. The selected student wins a $50 Barnes & Noble gift card, and the school or teacher who nominated the student receives a $200 gift certificate for Read Naturally materials.