Read Naturally has been successfully implemented in thousands of schools across the United States and Canada. With the introduction of our web-based intervention program, Read Naturally Live, an increasing number of international schools are taking advantage of our research-proven, powerful strategy. In response to this new trend, we attended one of the largest educational technology events on the planet, the 2015 British Educational Training and Technology (BETT) Show.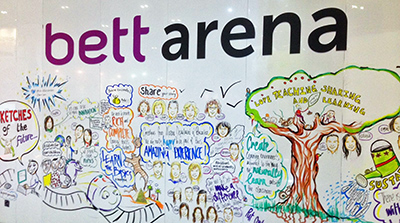 It was an amazing experience. Nearly 40,000 educators and over 700 companies from 44 nations gathered at the London Excel to explore new technology, share ideas, and discuss the future of education. I've been doing education conferences across the United States for years, but I've never seen anything like this. The sheer size of the exhibition hall was like no other event I've attended.
Ben Weisner and I had the chance to speak with educators from nations such as Iceland and Singapore. We interacted with school leaders and classroom teachers from across the UK, directors of nonprofit education organizations from Africa and the Middle East, and various representatives from educational technology companies spanning the globe. I also had the opportunity to attend presentations given by leaders such as Liz Sproat, Head of Education EMEA for Google, and Vicki Phillips, Director Education for the Bill & Melinda Gates foundation. Both of these women had inspiring personal stories to tell and optimistic visions for the future of technology and learning.
Coming away from an event like this, one can't help but feel hopeful for the future of education. We live in exciting times of innovation and connectivity. The opportunities for increased access to better learning tools for more students are certainly exciting. There are many challenges ahead, but the future is bright.