We're thrilled to announce that our Read Naturally Live program has just taken a giant leap forward with two groundbreaking new features: Independent Placement and Data Mentor! Read Naturally Live now incorporates the latest speech recognition technology to allow students to place themselves in the Sequenced series of the program without teacher support. Students using Independent Placement will get started in Read Naturally Live with an appropriate level and goal faster than ever—and teachers will save valuable time. Meanwhile, our new Data Mentor tool will analyze students' story data and make recommendations for placement adjustments to help ensure their level and goal are customized for success.
We've been dreaming of these features for many years and are thrilled they're now becoming a reality. Read Naturally Live generates such great results in part because students each have an individual level and goal, allowing them to make progress as efficiently as possible. However, it takes time for a teacher to personally place each student in the program—and teachers don't have much time to spare these days. Independent Placement and Data Mentor are the perfect solutions. For any busy teacher with a group of students getting started in Read Naturally Live, these features are game-changers.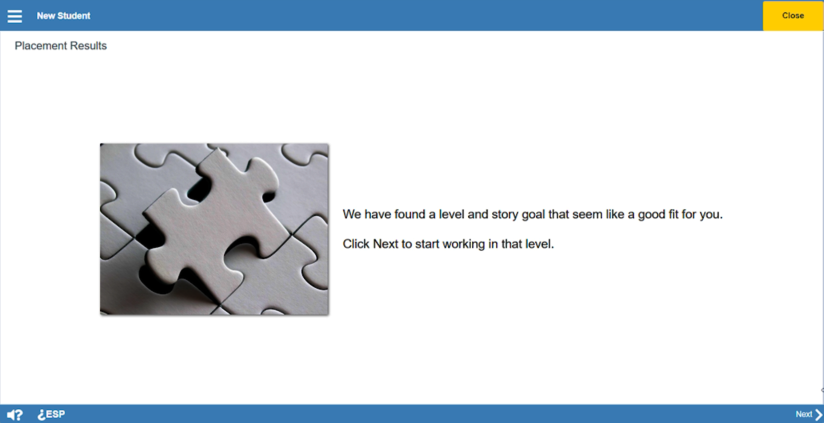 Naturally, teachers will wonder the following: Can the program really place a student accurately? What if the program gets the placement wrong? We're pleased to say we partnered with Soapbox Labs, whose speech recognition technology has set a high bar for accuracy with voices of all ages and accents. We also employed a rigorous testing process with students and teachers to ensure that Independent Placement and teacher-led placement would align as closely as possible. Additionally, Data Mentor will efficiently identify adjustments that may be appropriate. Data Mentor analyzes students' data from their first few stories, accounting for cold timing scores, practices, comprehension scores, and final timing scores to determine whether the current level and goal will promote progress. Using this data, the program makes suggestions to the teacher if a different level or goal might better serve the student. The Read Naturally educators on our team worked tirelessly to ensure that Data Mentor would make the same recommendations they would make. Thus, it's as though a Read Naturally expert is right beside the teacher, providing information and guiding them as they endeavor to make the best decisions for their students.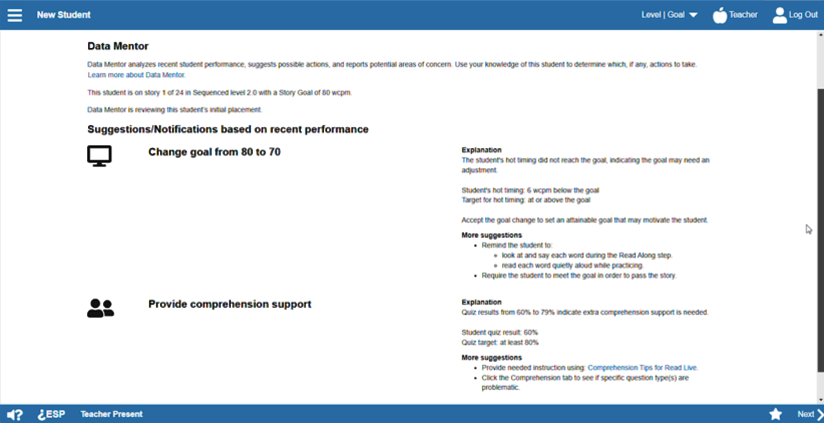 By using Independent Placement and Data Mentor to automate the placement process and prompt them with timely advice, teachers can focus on what they do best: understanding and instructing their students. As we roll out these exciting new features, we're excited to witness the transformative impact they will have on Read Live classrooms everywhere. These innovations will give teachers back invaluable hours of classroom time and allow students to make gains in reading more quickly than ever. We are confident that Independent Placement and Data Mentor will help us deliver on our promise for better tools, better readers, and brighter futures.
If you're not currently a Read Live user, now is a great time to sign up for a 60-day free trial! This trial gives you full access to all four programs in the Read Live suite: Read Naturally Live, Word Warm-ups Live, One Minute Reader Live, and Read Naturally Live—Español.
Note that Independent Placement and Data Mentor are currently only available for new students being placed in the Read Naturally Live Sequenced series, but we plan to expand these features as we continue to update and enhance the Read Live suite.