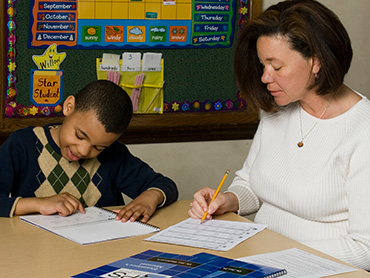 With the addition of Word Warm-ups Live, we've expanded our phonics offerings to reach a greater number of students and to provide more flexibility. It is our hope that any student in need of phonics support can benefit from our programs. The first step, of course, is to determine who needs that support. We offer a general phonics assessment, Quick Phonics Screener, as well as an assessment specifically for Word Warm-ups Live. What's the difference, and how will you use these assessments to understand your students' phonics needs?
The main difference between these assessments is that Quick Phonics Screener (QPS) has a Quick Spelling Screener (QSS) component that can be used to do a group diagnostic assessment with a whole class, whereas the Word Warm-ups Live Phonics Assessment is designed for placing students specifically in this program and is done individually. Here are detailed descriptions of both assessments:
QSS
QSS is a three-times-per-year diagnostic phonics screener that identifies a students with phonics needs. It can be used as a screener in the fall and as a progress monitoring tool in the winter and spring to document growth and confirm that an intervention is effective. It's like a benchmark assessment, tailored specifically for phonics, but does not have to be given individually.
The results of the QSS assessment will indicate which of your students need to work on phonics skills. From there, you can determine if you need to provide specific phonics support in the form of a program such as Word Warm-ups, Word Warm-ups Live, Read Naturally GATE, Signs for Sounds, or the Phonics Series in Read Naturally Live or Read Naturally Encore. Which program you select will depend on a variety of factors including the nature of your student's phonics needs. If you have a student who needs phonics support but are not sure which program to choose, please get in touch and our team will help you find the best option.
Word Warm-ups Live Phonics Assessment
The Word Warm-ups Live Phonics Assessment is designed for determining a student's earliest phonics need. Based on the results, the teacher can easily identify the specific section of Word Warm-ups Live that corresponds to the student's earliest phonics need and assign the student to that section. In certain cases, the Word Warm-ups Live Assessment results will also direct the teacher to the corresponding Read Naturally Phonics Series level that would address the student's earliest phonics and fluency needs in one program.
A Note About Distance Learning…
Teachers in a distance learning situation may want students to use Word Warm-ups Live but wonder how to evaluate need and assign a level. They can email the Student Copy of the Word Warm-ups Live Phonics Assessment for a parent to print and have the student read the word lists to the teacher during an online session. Or a teacher could share their screen and have the student read the items on the Student Copy of the assessment from the teacher's computer. Either way, the assessment ends once the earliest student need is determined, so the assessment may take only a few minutes.
Our phonics assessments are easy to administer and offer valuable data. Please get in touch if you have questions or concerns about how to administer these assessments or what the next steps should be. We're pleased to offer a variety of phonics solutions, and we're eager to help you find the right one.