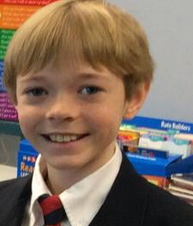 Congratulations to William P. from College Park, GA, on being selected as the April Read Naturally Star Student! William is a fourth grade student at Woodward Academy. His teacher, Mrs. Coleman, had the following to say about the great strides William has made in reading.
William struggled in the area of reading comprehension and fluency in the beginning of the year. He did not enjoy reading and found it laborious. I have worked with William using Read Naturally for 30-40 minutes 2-3 times per week along with other reading programs and strategies being taught. Now as we have 2 months to complete his 4th grade year, William enjoys reading and chooses more complex books on grade level. He challenges himself to answer quiz questions on the Read Naturally program each session and does it with a huge smile. He recently said to me, "Mrs. Coleman, I can't wait to finish this book so that I can read the next one." As his Reading teacher, tears of joy filled my eyes. William is a student who perseveres and chooses to accept constructive criticism only as tool to move him forward.
The Read Naturally Star Student of the Month program is designed to celebrate students who work hard to improve their reading skills. Each month, we select one student to feature in our newsletter. The selected student wins a $50 Barnes & Noble gift card, and the school or teacher who nominated that student receives a $200 gift certificate for Read Naturally materials.
If you entered the drawing and your student did not win this month, he or she will remain in the selection pool for future months! Students submitted between May 1 and July 31 will be entered to win the Summer Star Student award, which will be featured in our August newsletter.
To nominate your deserving student, visit the entry form.